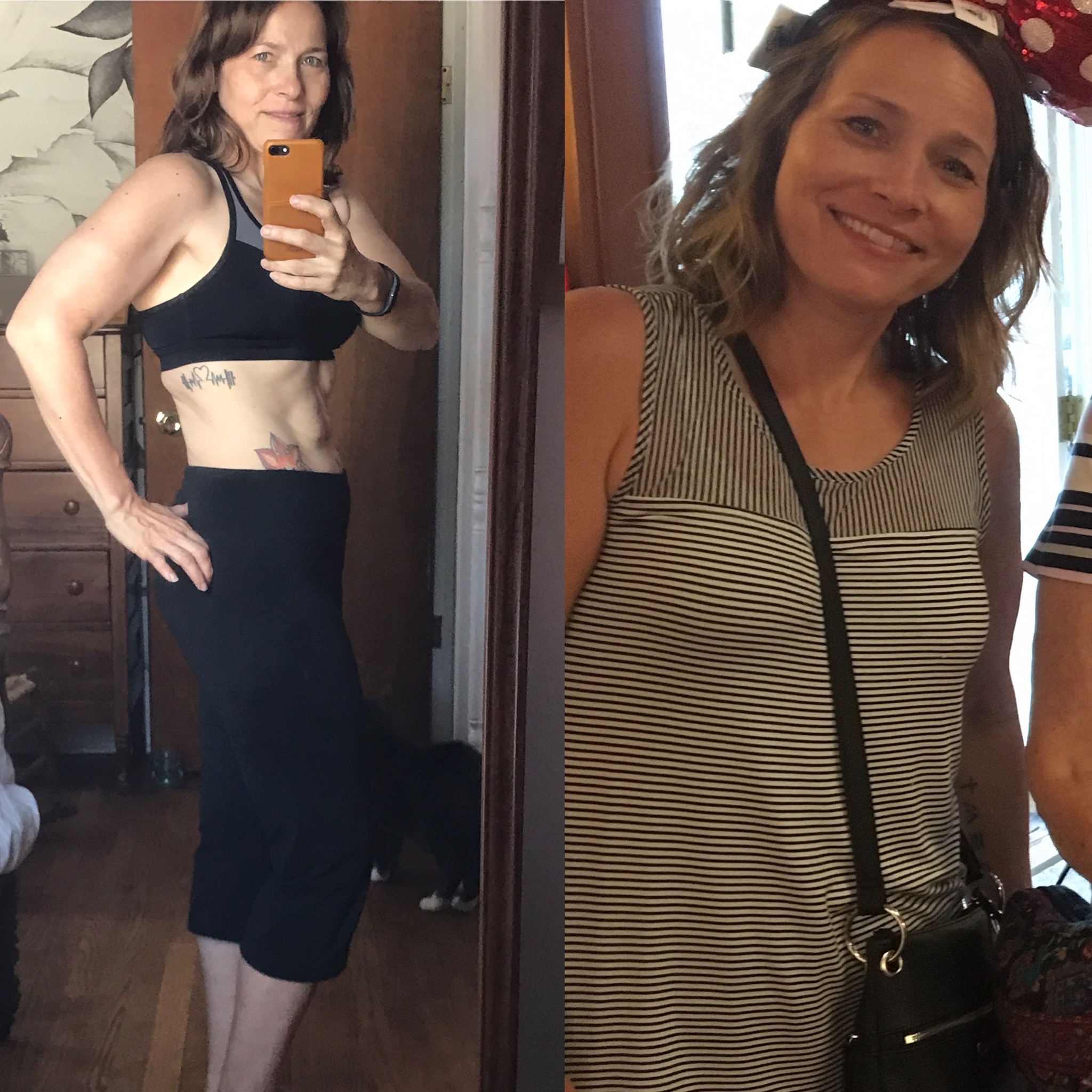 I've had an issue with food and weight my whole life. I swear in the past 30 years I have lost and gained 250 lbs, and I'm not exaggerating. I started in my 20s going to Weight Watchers. It worked; I'd eat less, lose 25-30 lbs, and then go right back to the same old bad habits. Repeat this story about 10 times over the next 20 years. I joined a few gyms here and there, but never made a habit of going regularly.

In 2006, I joined a gym again, and went every so often. I'd go and do cardio and then go right back to the fridge/pantry the next day. Food was always my enemy.  It made me feel better, so I thought. I was miserable.  Seven years later....in December 2013, I was on my way back up the scale from losing yet another 25 lbs, at the gym, and in a foul mood. This hot guy asked me why I was in such a bad mood. I complained to him about how the scale was going up. In response, he said, "well, Lisa, your diet sucks." OUCH! There it was, he truth, smacking me upside the head like an Italian mother. I made a decision that night that I was going to make a change the following year. This actually started out as a New Year's Resolution. I was determined to lose it.

I didn't have a fitness coach to help me back then with diet or exercise; I did it by going to the gym EVERY DAY, and learning from that hot guy how to lift and not just do cardio. He helped me every bit of the way; he taught me how to use almost every piece of equipment in that gym. I learned that the more muscle you have, the more fat will burn. I watched and learned and kept losing. I lost 5 pant sizes doing weighted squats!!! There were times I plateaued and he just kept telling me these three words: "just keep digging." I kept digging. It took 16 months to lose 55 pounds.

That was 2014-15. I kept it off for a few years, and found out maintenance is a different beast altogether. Then, enter menopause, a whole different kind of bitch. Nothing I had done in the past 4 years worked; I was going in circles. I went back to a fad diet, keto, and lost a total of 5 lousy pounds. I wasn't eating enough protein, I thought. I tried everything; I was at a caloric deficit but it seemed nothing worked.

At the end of 2019 I had all but given up. I had gained back 20 lbs and I didn't know what to do. I saw how well Phil was doing with Rich Fitter of Fitter Tactical Strength, and he said why don't you just give Rich a try. Best advice ever. I started working with Rich at the beginning of 2020, and I haven't looked back. I was training for another 1/2 marathon, and he worked with me to get my speed up, taught me how to run correctly (there is such a thing!), sent me articles on running gaits and stretching pre- and post-runs. He worked with my training schedule and tweaked the nutrition so I can get miles (and miles!) of running in without burning out.

Rich gave me the nutritional guidance and workouts I needed, and have dropped 20 lbs. Even during this whole quarantine, I just keep digging. Once we found out that gyms were closing, he asked me what equipment I had at home. He took the time and taught me how to use each piece, and he created a full body workout with just those three pieces. This quarantine has not been easy on any of us, whether you're single and living alone, or have a full house of screaming kids/adults. My workouts and meal planning have been the stability I needed. Had I not been working with Rich at the start of this pandemic, I would have, no doubt, been packing on the weight. But I have a goal, and I am determined to get through this. Through all of this, Rich has been a professional and a true friend. I value his expertise, his knowledge and his friendship. He's given me the hope I needed, when I couldn't find it, and he's kept me going. He just keeps telling me to trust the process, and I will continue to do that. He always closes with "we got this." Not, "you got this" but "we got this." He's got my back...and that's what I need.