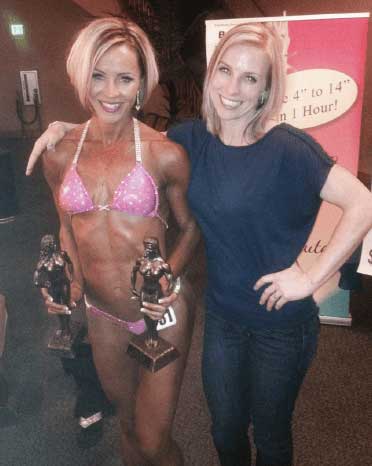 Company
The Gym in Pinetop
How did you let your clients know that you were doing professional meal planning now?
I have advertised on my Facebook page, Instagram, and have a questionnaire for meal planning attached to my website. Once a client fills out the form it is sent directly into my email. I have also received many clients from referrals of current or past clients.*
How do you build it into your current training programs?
My husband and I are both personal trainers. I offer a package price for clients that want to do meal planning and personal training. If a client does not want to start with a meal plan we talk to them during training sessions about the importance of diet to achieve their health goals.*
How do you price it?
I started with $50 per meal plan. After using the Evolution Nutrition website and building a database of meal plans  I create my own per client based on their needs and preferences) it is much easier for me to put together a meal plan. I now bundle 4 meals plans for the price of $100 and I no longer offer just 1 meal plan. I have found when a client does 1 meal plan it's not enough time for them to create a habit or see changes.*
What results are you seeing for your business?
I do meal plans for competitors and I have found after my clients competitions I get a lot of new clients due to the social media presence associated with competition, via Facebook, Instagram and of course personal referrals. I live in a small town so reputation and word of mouth are a large part of my business.*
And here's what my clients have to say!
"Awesome meals thank you.  The whole family is thrilled with it too! Started on Monday and it's going good. So good that my husband has decided to pack lunch and dinner on Saturday and head out to our family reunion, rather than eat all the pies and cookies that are going to be there!!!!"*
 

"I feel surprisingly … excellent! I jumped out of bed this morning, excited about making breakfast. And the kids are spending less time on the tablets and more time on the trampoline. …….we are all feeling better and smiling more. It may have more to do with having a positive attitude towards this whole life change, but good food is definitely the fuel."*
 

"Jill recently designed a custom meal plan for me. I have been pleasantly surprised as to the amount, great taste, and simplicity of the recipes. Every two weeks I get weighed and measured. If needed, she'll modify my menu and is always seeking input from me as to my likes or dislikes regarding food. She has been a great professional as well as a great cheerleader."*
*Any one member's success does not guarantee results. Your results may be different.